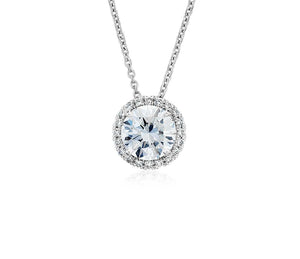 Diamond pendants and rings with natural diamonds mined, cut and polished in Canada.
In 1991 diamonds were discovered in Canada. In 1998 they started Mining them. 10-15% of the worlds diamonds are mined in Canada.
The average Canadian diamond is a whiter diamond then found elsewhere. No reason to go 1⁄2 way across the world for diamonds when they are just across our border.
This selected grouping are all fine cut of H-I color and SI-I clarity.

Set in 14kt white gold upon sturdy white gold chains.